When it comes to an 8-year-old child's birthday party, there are tons of reasons to celebrate. Not only does a birthday party make your child feel loved and valued by family and friends, but it can also make them feel connected to the community.
Birthdays for children are just one way to celebrate, socialize, have fun, and make memories. At a party, kids will get to learn more about their friends and the world around them, and play games that increase endorphins.
Think of all the fun activities that happen at a birthday party. Not only do these activities provide great entertainment for the day, but they are also a moment in time that will be cherished for years to come. Whether it's a treasure hunt, a party complete with cake and ice cream, or an event at a local park, there's almost no end to the number of ways you can celebrate.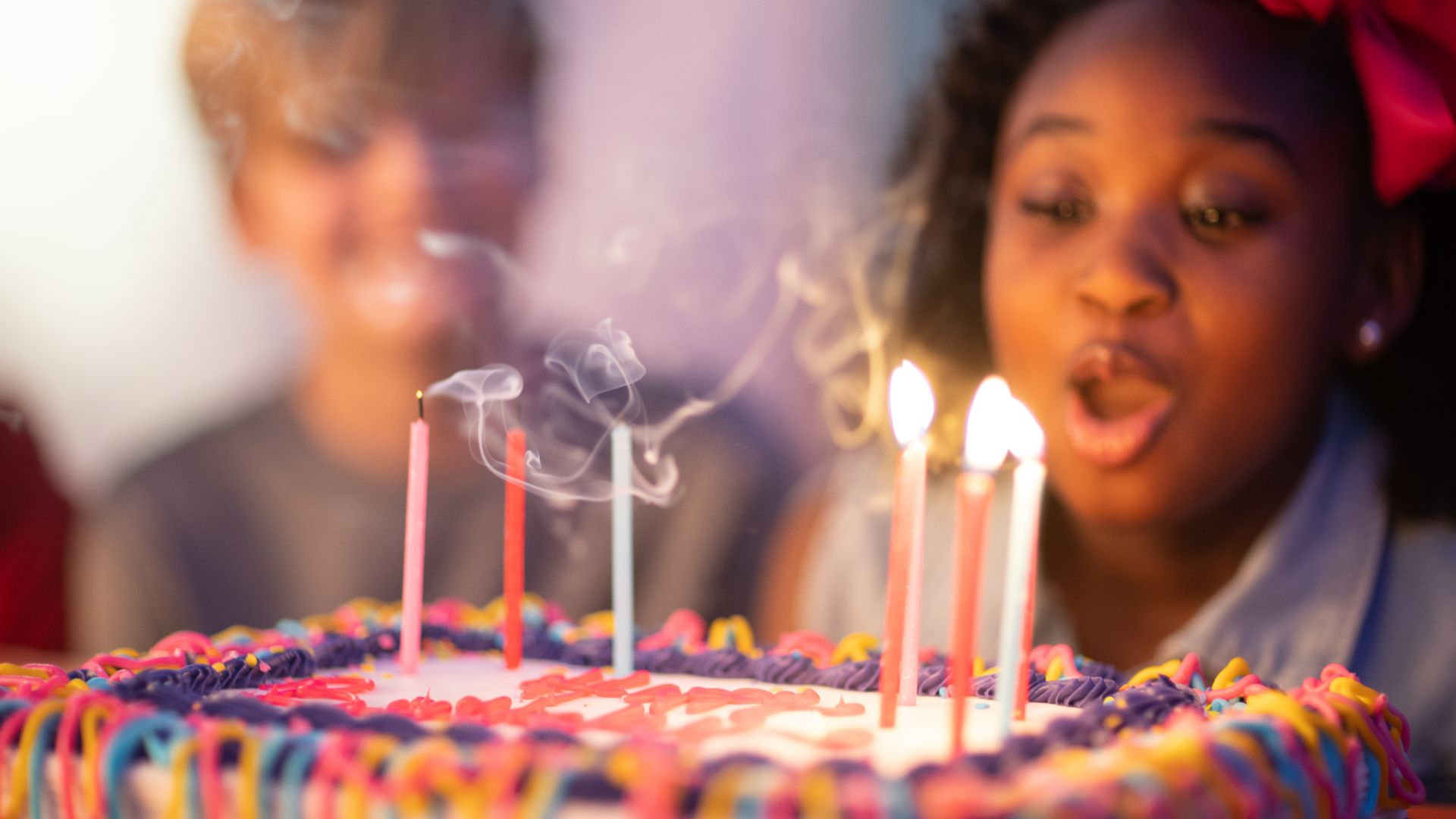 So how do you ensure that your 8-year-old birthday party is one that will be remembered? We have a few ideas that can help. To start, try to personalize the party as much as possible. If your child has a few favorite things, be sure to include those on their special day. For example, if your son or daughter loves dogs, try to find party favors, food items, or decorations with dogs.
You can also try a birthday party theme inspired by their favorite character, thing to do, or toy. Wizards and witches, animal lovers, or princess themes are just a few examples that work great for an eight-year-old, but there are tons more fun themes to choose from.
Once you've nailed down a theme that you think might work for your child and your child's friends, you can start planning more specific activities, games, and party decorations. But don't worry, you don't have to think of it all on your own. We have some birthday party ideas and a few suggestions that will have your birthday kid pumped for what's to come.
Benefits of having an active birthday party
An active birthday celebration is one way to make it memorable. Not only that but there's no doubt that kids will be entertained throughout the party because they can do a variety of different games.
For an eight-year-old, an active party is ideal for physical, mental, and social development, as well as for keeping things fun and engaging, and for their overall health and well-being.
It's well known that children need an array of different experiences to ensure that they learn and develop their mind-muscle connection, hand-eye coordination, communication skills, and more. By choosing a birthday party where they will play games, do different activities, and even meet new kids, they'll have an opportunity to establish some of these skills that take time to learn.
Games that require a strategy to win will allow children to learn to make assumptions, create plans, and become organized. Other activities that use the body can help with their confidence and can also help them learn about teamwork, all while getting the physical health benefits of movement.
5 Best ideas for an 8-year-old birthday party at Urban Air
Virtual Reality Birthday

It's no secret that kids absolutely adore virtual reality. That's why it's got the top spot on our list for an eighth birthday. This exciting and creative birthday party idea offers the opportunity to step into a new world with just a VR headset. Each activity on the headset is unique and provides a different sense of competition and a special environment that you can only get from virtual reality.

Our virtual reality activities include a VR roller coaster that will transport you to a roller coaster ride that feels just like real life. VR skydiving will make you feel like you're jumping out of an airplane without actually doing it, and VR sports is a highly stimulating VR activity that will test your sports skills in a few different ways.

Any eight-year-old's party will benefit from all the fun that there is with virtual reality and all the engaging activities there are to choose from.

Sky Rider – The Ultimate Indoor Zipline

The Sky Rider indoor zipline attraction is a thrilling birthday party option for 8-year-olds and their party guests because it soars high above the park and requires kids to face new heights. Not only will this get kids' adrenaline pumping, but it will also give them a unique perspective of the park.

Seeing the park and the kids below is an experience your birthday boy or girl won't want to miss. Plus, our Sky Rider indoor zipline can be a challenging physical activity since it requires balance and coordination. And, if anyone is afraid of heights, this is a great opportunity to encourage them to face their fear.

After a ride on the Sky Rider indoor zipline, kids will feel a sense of accomplishment in their abilities and increased confidence. Who knows, they might even want to do this fun activity over and over again after finding out how much fun it is.

Warrior Course

The warrior course is one that shouldn't be missed. Perfect for 8-year-olds who are up for a challenge, the warrior course requires mental patience, critical thinking, and problem-solving skills to complete successfully.

Uneven platforms combined with obstacles, hanging rings, and tilted walls work together to test strength and fitness with a ball pit underneath to cushion any falls. This tough course is one that kids love because it is difficult to complete and requires both concentration and energy.

The course can be completed alone, but also offers the opportunity for children to build teamwork skills and develop new friendships, especially when kids work together to help each other complete it.

Once this activity is complete, children will feel a sense of accomplishment and confidence from completing a difficult task. They'll also benefit from a physical workout that helps build strength and endurance in movements that are realistic and functional.

Wipeout

Wipeout is a top choice for a child's party. That's because it is so much fun and requires skill and concentration to win. Wipeout starts with each child on their jumping spot. There is a cushioned bar that will swing in both clockwise and counter-clockwise directions, and the goal is to dodge the bar by jumping or diving to avoid it. If you are struck by the bar you're out. The last kid standing wins.

Why choose Wipeout for a kid's eighth birthday? This challenge is one that might look and sound easy, but this activity is anything but. In this game, kids will challenge their physical timing and limits.

It's also a competitive activity where kids can enjoy celebrating in a fun and friendly way. Plus, it's a group activity, so all of the kids at the party can join in at once. Partygoers will benefit from learning new skills like teamwork, communication, and socialization, as well as improving their balance, coordination, and agility, all while having tons of fun.

Trampolines

One of our top birthday party ideas, trampolines have an immense amount of fun to offer to any 8-year-old. Not only can children enjoy jumping for hours, but they can feel comforted by knowing that they are safe when doing new tricks in different areas of the park. They can try unique moves while bouncing around without worrying about fears that might hold them back otherwise.

Trampolines are also a fun and engaging form of physical activity that can help 8-year-olds improve their balance, coordination, strength, and overall fitness. Jumping for hours on end allows them to increase endurance and is a low-impact form of exercise, which is safer for children's growing bodies.

For a birthday party, you can play a variety of fun games on a trampoline similar to what you might play at home but with added fun. Because of this, there are tons of group activities that work for both small groups and large groups alike. These party games can promote teamwork, socialization, and communication skills.

Want to let kids learn on their own? Trampolines are perfect because they will keep your children and their closest friends engaged and active for extended periods. They can bounce together, make up new, fun games, and create different competitions on all the different trampoline areas. Let them be creative with their party activities and you might be surprised at how much fun they have.

Remember all Urban Air Parks are a little different so be sure to check the availability of your favorite attractions at your local park.

Overall, creating the best eight-year-old party is simple when you personalize the party and choose activities that challenge and entertain your child and your child's guests. At Urban Air, it's easy to plan a party that is memorable and fun, thanks to all the physical activities that are offered.

Try Virtual Reality, Sky Rider (The Ultimate Indoor Zipline), Warrior Course, Wipeout, or the Trampolines to ensure a happy birthday, and know that your kids are benefitting from physical activity that tests and builds their strength, endurance, physical and mental skills, and forges new friendships that are meant to last.

Whatever you choose for your child's party, and party theme, we are sure that Urban Air is the perfect place to create a classic, memorable party for everyone who joins in on the fun. Now, what are you waiting for? Start party planning with us today to get started planning your kid's birthday party.