15 AWESOME Birthday Party Ideas for 6-Year-Olds
A birthday party is an adult's way of bringing together kid's friends combined with party games to make a memorable celebration that will be reminisced on for years to come. And what child doesn't love an incredible birthday party celebration? After all, they're full of fun, food, and friends and allow kids to spend time together learning more about each other and the world around them. Not only are they fun, but birthday parties also show children that they are loved, cherished, and important – all crucial emotions that are developing at the age of 6 years old.
No matter your 6-year-old's favorite characters, favorite things to do, or favorite food, there are tons of ways you can get creative in making their birthday party a hit. We have a few party ideas that will help you get started planning, so you won't have to worry about the details later.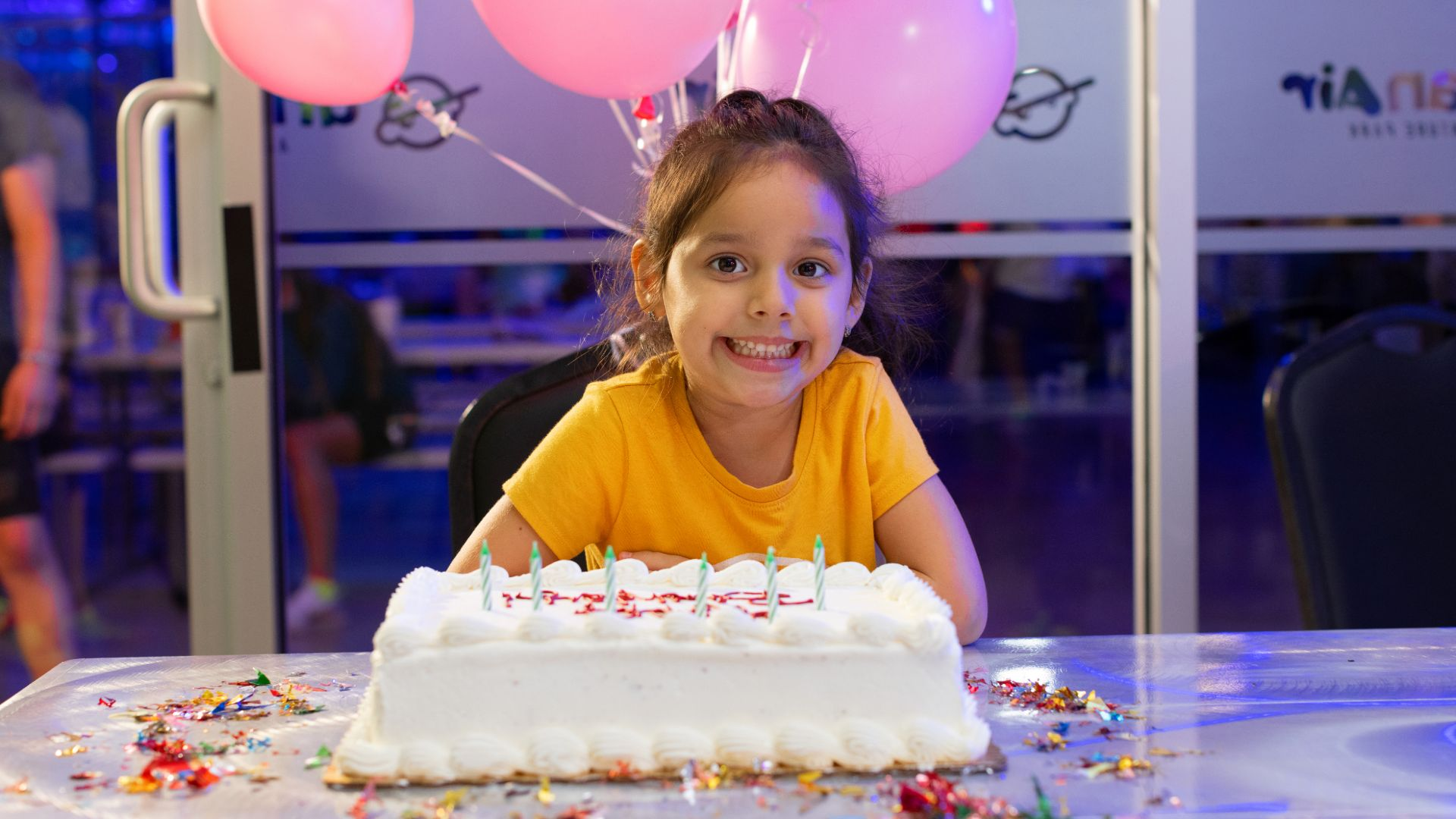 First, think about what your child's interests are. Do they like to dress up in costumes? Perhaps they're interested in carnivals or science? Think of your child's favorite movie. Do they love the superheroes featured? Incorporating these ideas and creating a themed birthday party will help highlight their personality. You can also use a themed party to create new games that will ensure kids are entertained throughout the event.
Guarantee the birthday fun by keeping kids active and involved, integrating new and fun ideas into the party, and allowing them to interact and let loose together. The laughs they will surely have are bound to create lasting memories and bellies full of laughter.
Top Activities for a 6-Year-Old Birthday Party
When it comes to the best activities for a 6-year-old's birthday party, the ideas can range from something as simple as a few fun games with a small group of kids to a ton of kids doing fun activities for the entire day. But remember, the best party ideas will ensure that your kids have a fun and memorable birthday party. At Urban Air, we're ready to make sure your 6-year-old's birthday party is everything they've dreamed of.
There are tons of activities to try during a birthday party, especially for six-year-olds. Trampolines offer endless hours of jumping fun, and a variety of kid's games can be played on them. Trampoline dodgeball is one example of an entertaining game that is perfect for a kid's party, as kids can get competitive trying to get others out as quickly as possible while the jump, dodge, and dive around.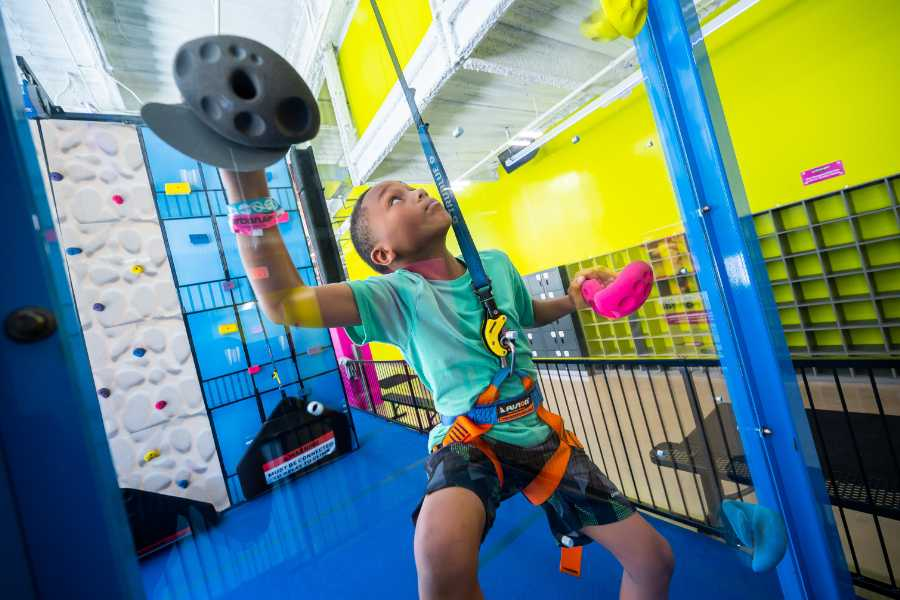 Climbing walls are another party activity that provide so much fun for the birthday boy or birthday girl and al of their party guests. Everyone can get involved on the climbing wall, using concentration, strength, and enduring to climb all the way to the top. This activity also requires a bit of patience and can even teach kids about perseverance to reach their goals.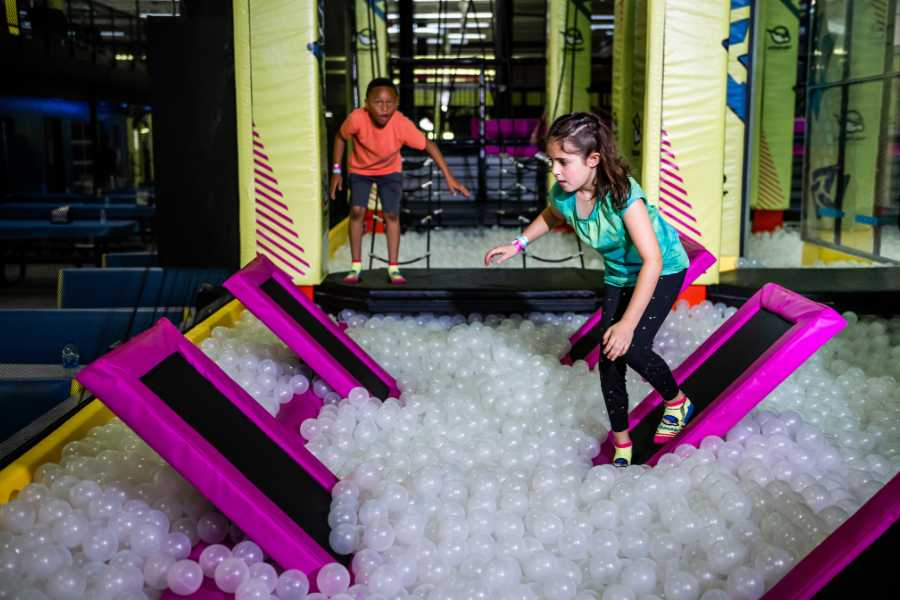 Do your kids like a bit of a challenge? Obstacle courses like our Warrior Course are challenging activities and are the perfect addition to any child's party since they require a variety of skills to complete. Kids can work together to complete the course, work alone and try their hardest to finish, or use a combination of teamwork and individual skills to work their way through the course. No matter what they choose during their birthday party, the obstacle course is sure to keep both younger kids and older kids entertained during this fun activity.
Inviting children to a game of virtual reality is one sure-fire way to get their attention. While this party game is more of a one-man-show, it's just as exciting and works great for your child and your child's friends. While one person gets to experience virtual reality, the others wait and get excited about what's to come. They can also play a range of virtual reality games that cater to each of their personalities and what they like to do.
All these activities come with loads of fun and interaction between kids. And what's better is that they can all be personalized to fit into any birthday party. For example, if you are having an animal-themed party, you can encourage kids to use the climbing wall and see who can be the best monkey. Or, if you're trying out a science party, you can incorporate the flashing lights into a "science experiment" to see who can find the coolest light colors. During your birthday celebration, you can also add an element of competition. For a character party or even a superhero party, try to see "who can save the day" by completing the obstacle course.
No matter what you're planning, these birthday party ideas will surely provide a great start to creating endless amounts of fun.
Personalized Party Favor Ideas
Planning the perfect, personalized birthday party is easy with these party ideas, and it's made even easier by birthday packages that work great for six-year-olds. Choose from either a classic or glow-themed party and start creating a child's birthday that is just as simple to plan as it is fun.
Classic parties bring out everything there is to love about birthdays, while glow parties include black lights that make your clothes glow in the dark. With a classic birthday, you could go with party favors that include candy, toys, or games, and with a glow party, try party favors that are also glow in the dark, like rings or jewelry or even fake vampire teeth.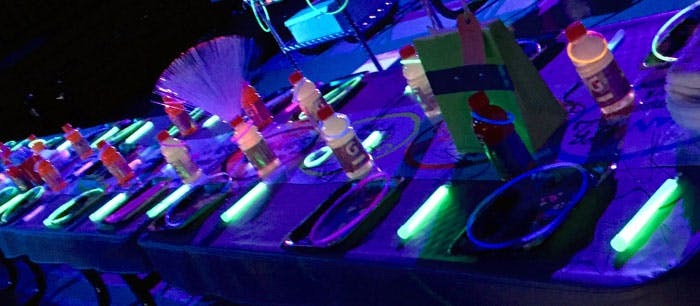 Urban Air also offers a range of party packages, from basic all the way to platinum. These party packages truly make it easy to host party guests at a venue that is incredibly fun and entertaining.
All parties include digital invitations, a two-hour hangout, bottled waters, party favor scratch-offs, setup and cleanup, socks, tablecloth and runner, balloons, plates, napkins, forks, and 1 solid shirt for the birthday boy or girl.
You can also choose your party area. Opt for a table or a private room to create this memorable party and you can also bring your own birthday cake, additional party decorations, and more if you want to go big. To make your party a true celebration, personalize the favors to the party theme. The kids will love how the ideas connect, especially if you choose party games that match.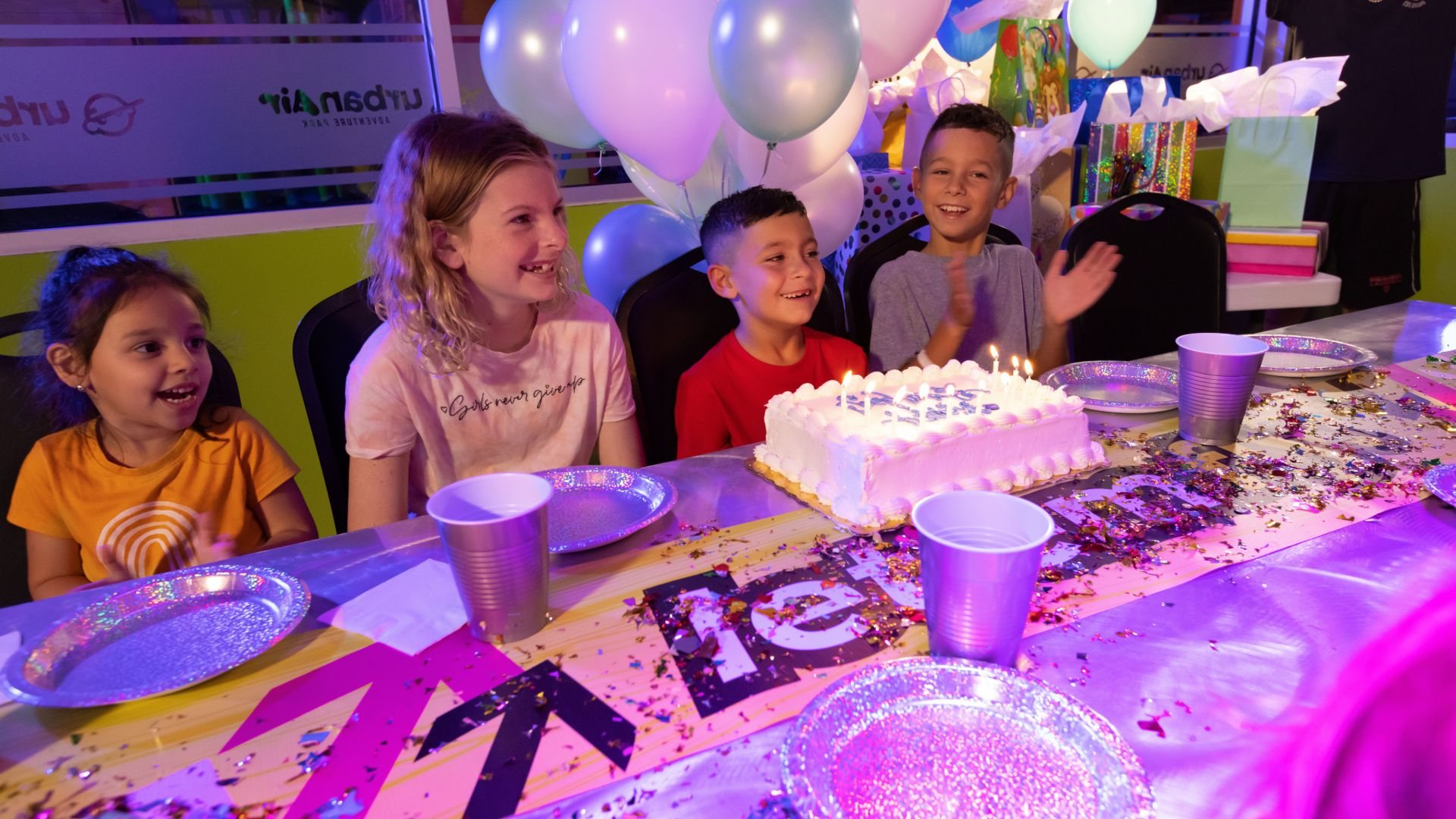 Tips for Planning a Successful Party
Creating a successful birthday party is made easier by a variety of party ideas, party games, and solid planning. For your six-year-old's party, we have a few tips to make your child's birthday a hit.
Start by choosing a party package that includes everything you need. This is the easy part of the process and will help you get started in the right direction. Urban Air can help you with party planning, and even provide recommendations as well as more birthday party ideas on what are the best activities depending on your child's personality. Every party package is customizable!
When scheduling the party, be sure to make it a convenient time of the day. Your child will want everyone they invited to come, so be sure to keep this in mind when planning the day and the time. Many children have activities that can conflict with party times, so be sure to check with your guest list and even family members.
Try a themed party. This will help you get organized and stay on topic so that you can start picking out party favors, gathering new party ideas, and creating a cohesive look for the birthday child.
Give out invitations early. Urban Air offers birthday party invitation templates to help you make this step easy. Doing this will ensure that your party guests can clear their schedules and prepare for the party ahead of time. Also, be sure to invite the right number of guests. If your child does not do well in large group settings, you'll want to keep the group and the party area small.
Lastly, be sure to choose age-appropriate activities. For six-year-old's, an adventure playground can be a big place. Most kids will be excited about all there is to offer, but some can be overwhelmed. Be sure to keep this in mind when planning your party and think about who you are planning it for and what makes the most sense.
Conclusion
Hosting a birthday party for a 6-year-old is easy when you choose Urban Air. With all the available activities and the ability to personalize the party package depending on your child's personality, you're in for a party that will not only keep kids busy, but also be easy to plan.
Be sure to book early with Urban Air, as birthday party packages can fill up quickly. We're happy to help at every step of the way to create a birthday party that is engaging, fun, and memorable for you and your child for years to come.