A Party Your 9-Year-Old Won't Forget
A ninth birthday party is one that can become a lifelong memory for your child and all of their friends. By having fun, playing games, and encouraging your child to enjoy the company of friends you will surely create a day of adventure that will be talked about by kids for years to come.
Not only can a birthday party become a cherished memory when you create a fun atmosphere, but having an active kid's birthday party is a great way to celebrate for a few different reasons. First, active play is beneficial because kids will get a great workout while having a blast. Second, kids can also benefit from jumping games and playing with friends where they will gain additional social skills like teamwork and sportsmanship. Lastly, kids will be entertained the entire duration of the party when you choose active play and unique activities.
Looking to learn more about our party packages and book a party for a 9-year-old? Call the Birthday Hotline at 800-960-4778 or visit our birthday party page.
Below, we'll suggest some great, active birthday party ideas for 9-year-olds, including fun ideas, a few of our favorite games, and even some activities that will create a memorable event for your child and their friends.
9-Year-Old Birthday Party Ideas: Trampoline Parties
There are a variety of activities you can do and customize within for a trampoline birthday party. You can create a theme for the birthday party, such as a kangaroo-themed birthday party, and create a party for kids to have fun on the trampoline like kangaroos. You could also do a princess party theme and suggest that all the party attendees wear tiaras and tutus and jump around. Another theme could be dinosaurs, where kids do fun activities on the trampolines such as pretending to be their favorite dinosaur.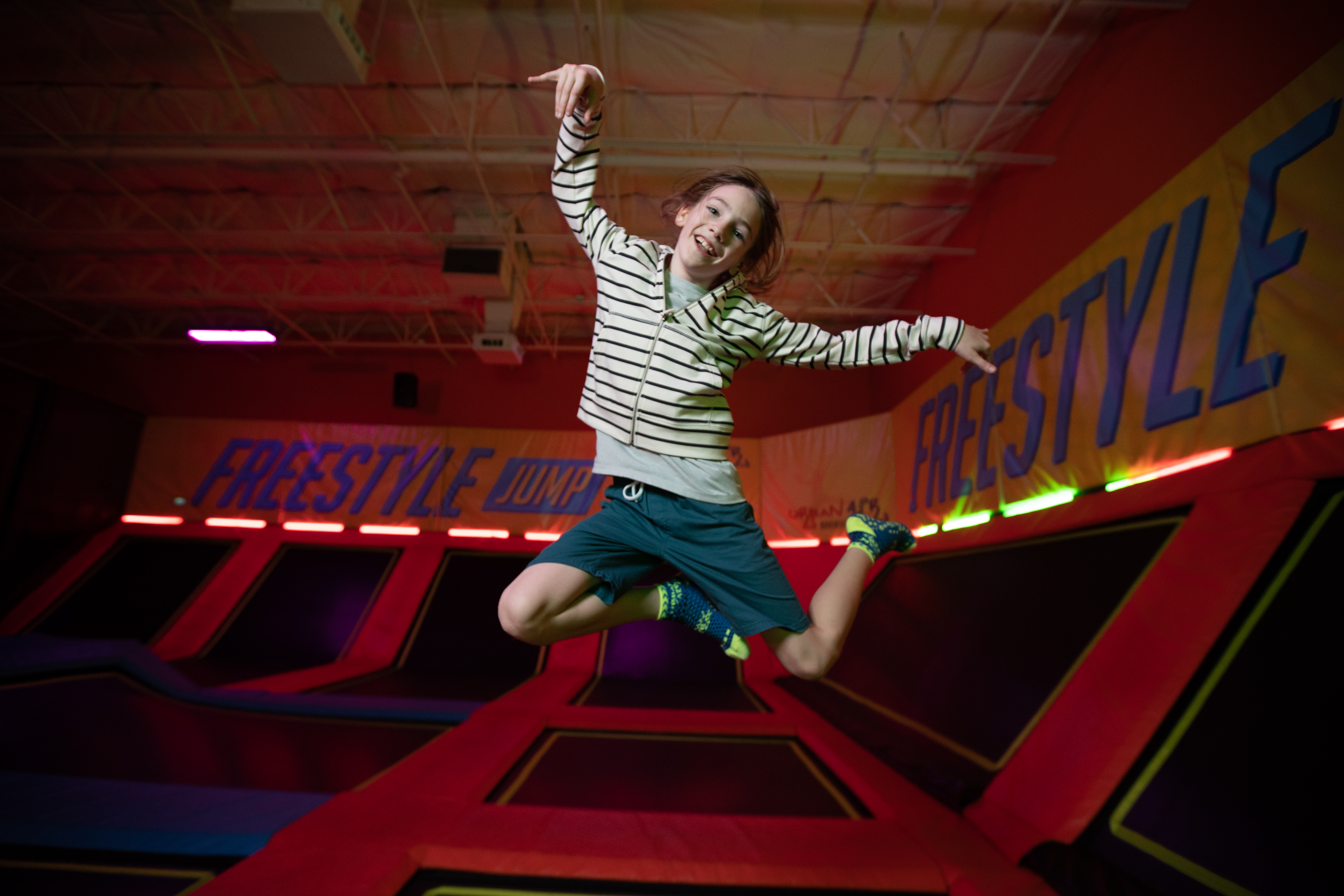 Other fun trampoline birthday party ideas:
To keep the kids active, one of our favorite, fun birthday party ideas for kids is to use the dodgeball trampoline court. A trampoline party is perfect for this activity and it can also help to tire the kids out after birthday cake or cupcake intake.
Kids could also play tag in the foam pit, where they will have extra fun watching the other kids run and trying to catch them as quickly as possible. This is one of the most active games kids can play during their party.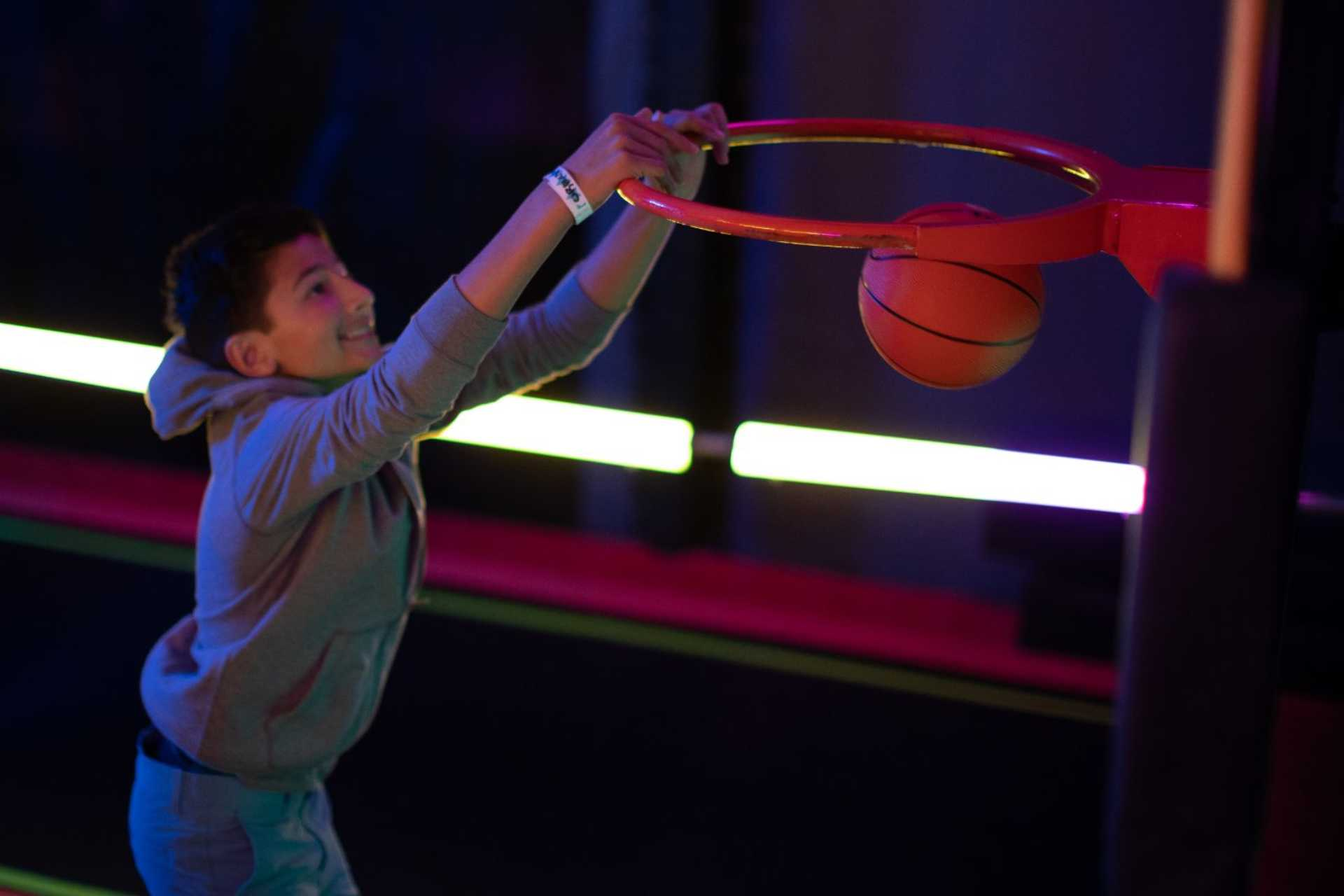 On the slam dunk zone trampolines, kids can compete to see who can jump the highest, complete the best or coolest trick, or who can score the most baskets in the shortest amount of time. They could also create two teams and keep score of how many slam dunks are made in a time frame for a fun, interactive game that involves everyone.
Laser Tag Birthday Party Games
Laser tag is a sport that's played indoors where 9-year-olds use infrared-light guns to shoot at targets. These targets can include other players and bullseyes, and kids will shoot at them to gain points. It's also important to try to dodge other players' lasers to avoid allowing them to score for their team.
This is one of the best party ideas for kids because it's competitive, active, and perfect for kids of all ages. Attractions vary by park so be sure to check your local park to see if Laser Tag is available.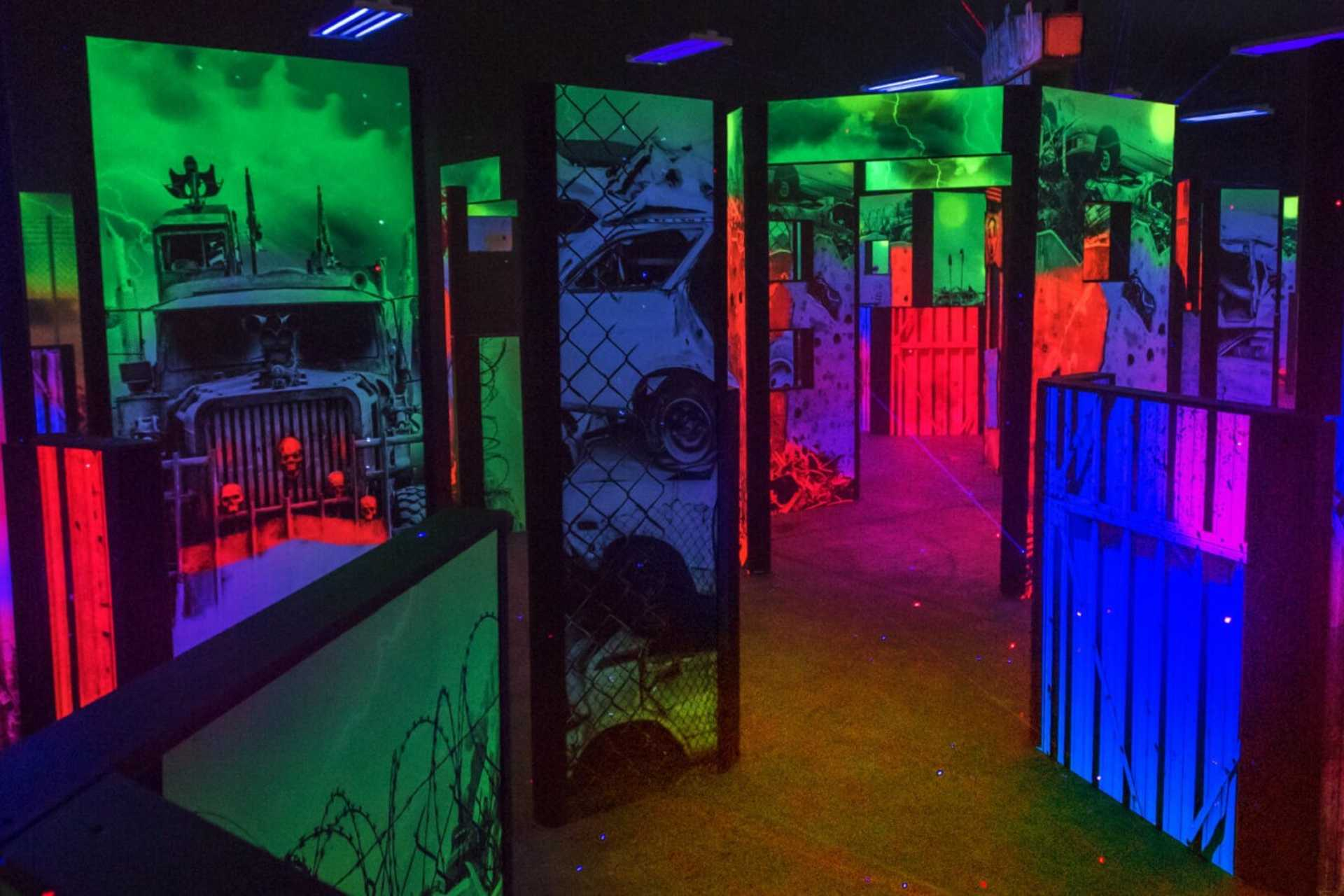 Below are some examples of team-based birthday party games with laser tag that your kids can play during their party. They're great for almost any birthday boy or girl.
Domination: In this laser tag game, teams compete to control various points throughout the arena. The winning team is determined by the team with the most points.
Capture the Flag: This is a classic game that will ensure you have one of the best parties around. In this game, teams try to capture each other's flags and bring them back to their own base without getting tagged by the other team.
Zombies: This game is a twist on the classic "Last Man Standing" game. One player starts as a "zombie," and their objective is to tag other players and turn them into zombies. The last human standing wins. To make it more fun, you can make the birthday party zombie-themed.
King of the Hill: In this game, teams compete to control a designated area in the arena. The team that holds the area for the longest time wins.
Go Kart Birthday Party Ideas
Go-karts are small race cars that kids can drive around a track. For a nine-year-old, go-karts are incredibly fun because they can pretend to drive as if they are driving a car. In this activity, kids must test their patience, timing, and strategy skills to get first place, which makes them a thrilling adventure for them and their partygoers.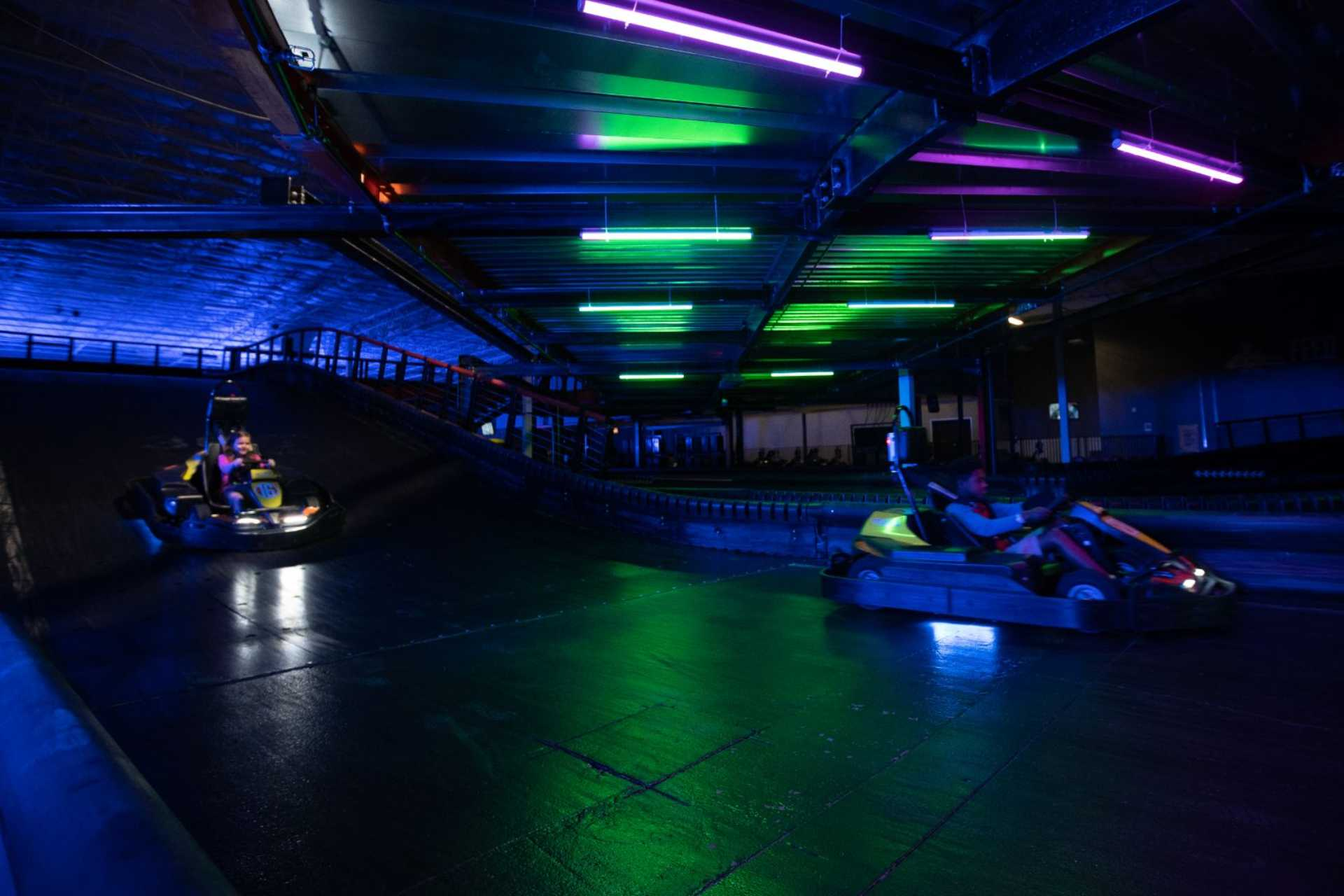 Want to create a birthday party that's fun for your child and their close friends? Here are some more fun ideas on how to incorporate the Go Karts activity into your birthday party.
Use Go Karts as a theme: For kids who simply cannot get enough of Go Karting, turn this activity into the theme of the party. You can use car props on the birthday cake, get tablecloths and napkins with car decorations, and even give away small racecars as party favors. Incorporating this into the theme will truly make your party feel cohesive. You can even plan for kids to meet at the party and stand in line together so that they can do this activity together at once, ensuring that everyone at the party gets to have a turn.
Follow the Leader: Have the birthday boy or girl start in the front Go Kart. The object of this game is to beat the leader. The other kids will then try and catch up to the leader who starts in first place. On the last lap, the leader is determined by who ends up in the front of the pack again. Be sure to have all the kids play together so they can socialize in the line and get bragging rights for whoever wins!
Parents vs Kids: In this Go Kart game, the parents get involved with the kids. The point of this is for the adults to go against their own children during the party. If the parent beats the child, they win, if the child beats the parent, then they are the winner. Whoever wins gets a prize!
Climbing Walls Birthday Party Games
Climbing walls test kids' critical thinking skills and physical fitness by challenging them to get to the top of a wall while being strapped in and safe. This fun activity is a great calisthenic option for kids of all ages because it requires strength and endurance to make it to the top.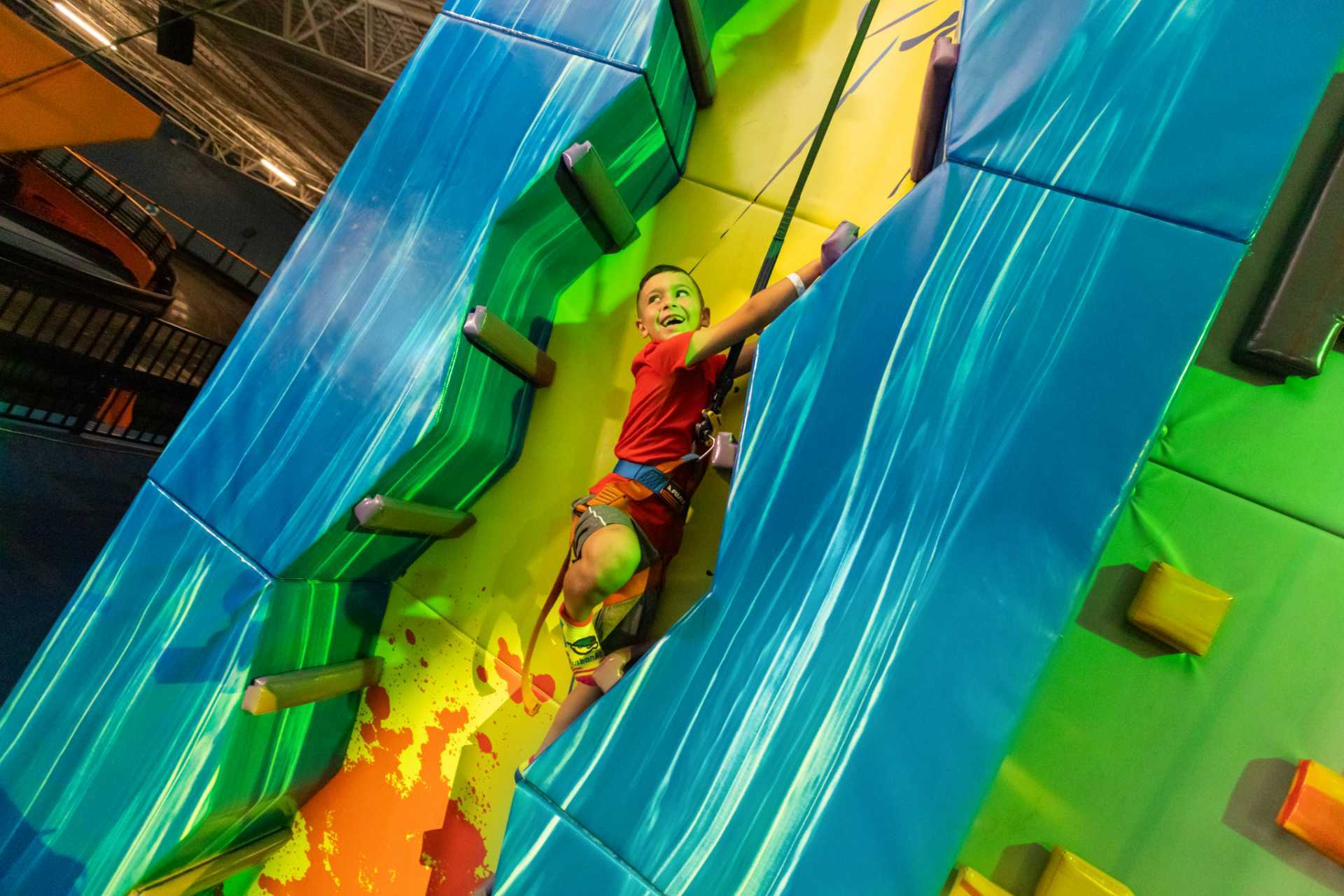 Climbing walls can also help kids face their fear of heights by ensuring that they are safely strapped in the entire time. For your child's 9th birthday party, be sure to suggest using the climbing wall, or utilizing some of the games below so that you can have a great party that everyone will remember.
Birthday party themes can help you create structure and introduce unique ideas that may not occur at other parties. For a nine-year-old birthday party, why not try a monkey-themed party that includes the climbing wall, a monkey-inspired birthday cake, and treat bags that are decorated with monkeys?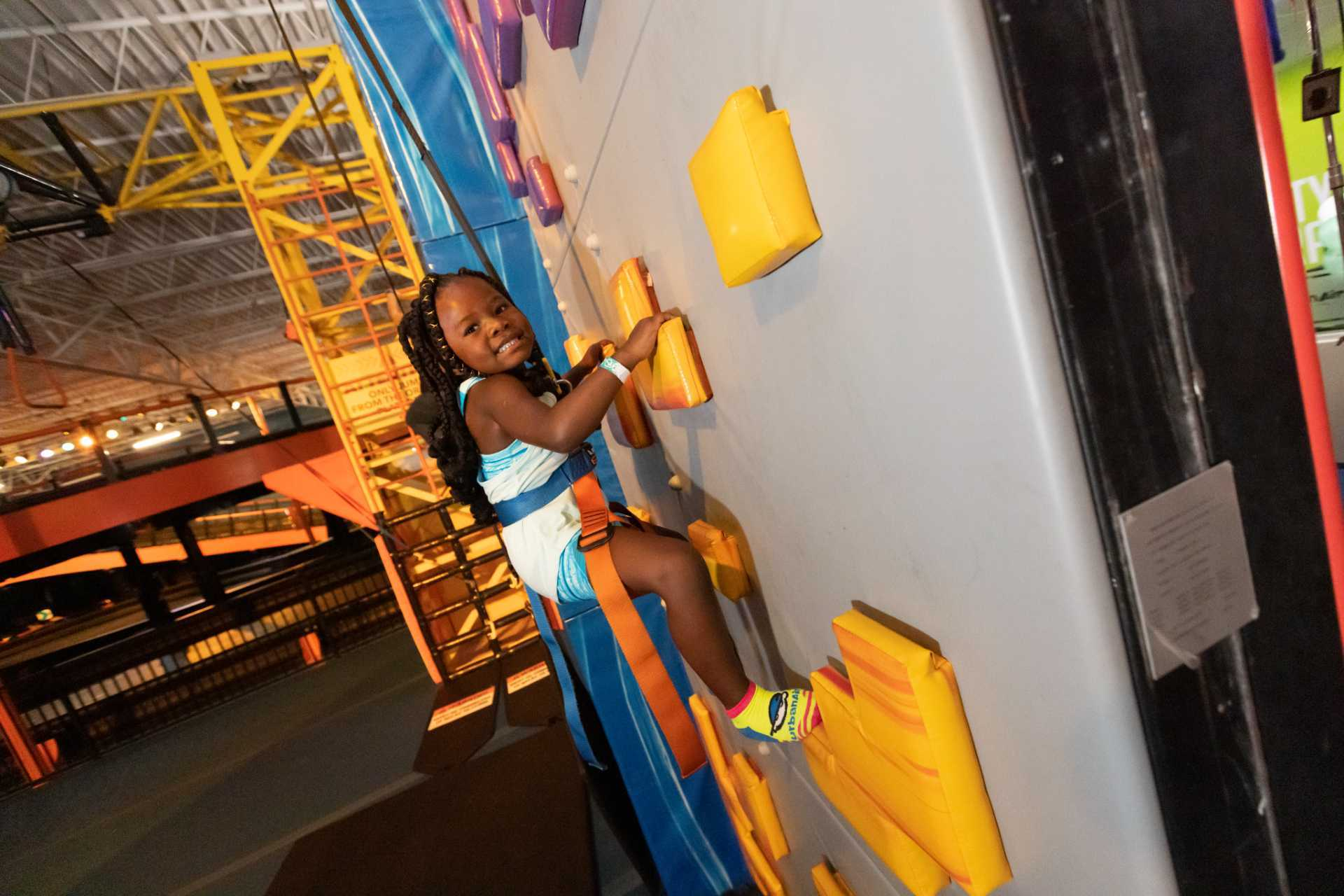 There are some specific games and party ideas kids can play using the climbing wall, which pair with the perfect theme of monkeys flawlessly.
Try a scavenger hunt
Create a scavenger hunt where kids do different activities throughout the park. Give them a card to fill out where they must have an adult check off every time they complete an activity. You can even use the climbing wall as one of the activities and include monkey stickers to cover each activity when it's complete. The first child to complete all of the activities wins a prize!
Follow the color
Many climbing walls offer easy to difficult routes to climb up, depending on the color you follow. For kids, play a game where the first child tries to follow a specific color to the top, and then see if the next child can do the same! It's kind of like playing H-O-R-S-E in basketball, but instead, you're using your body to climb the wall. The kids keep going until only one child is left who can climb the specific color they have chosen.
Helpful Hand
In this game, kids are partnered up and one child gets strapped in, while the other is down at the bottom. The point of this game is to help the child who is climbing in the harness to get to the top. While one child climbs, the other child at the bottom will offer help by telling them where to put their hands and feet when they have trouble. This is helpful with two kids because one may see an easier way to get up the wall than the other. Success is reached when the child makes it up the wall, and then the kids switch! The teams win after both kids make it up the wall.
Choosing the Best Birthday Party Ideas for Your 9 Year Old
There are tons of birthday party ideas that can help you create the best party for your child. Whether you choose a specific theme that includes games and party food inspired by your theme or you opt to allow your child's birthday to go with the flow, there's no doubt that an activity party will ensure that your kid has a happy birthday.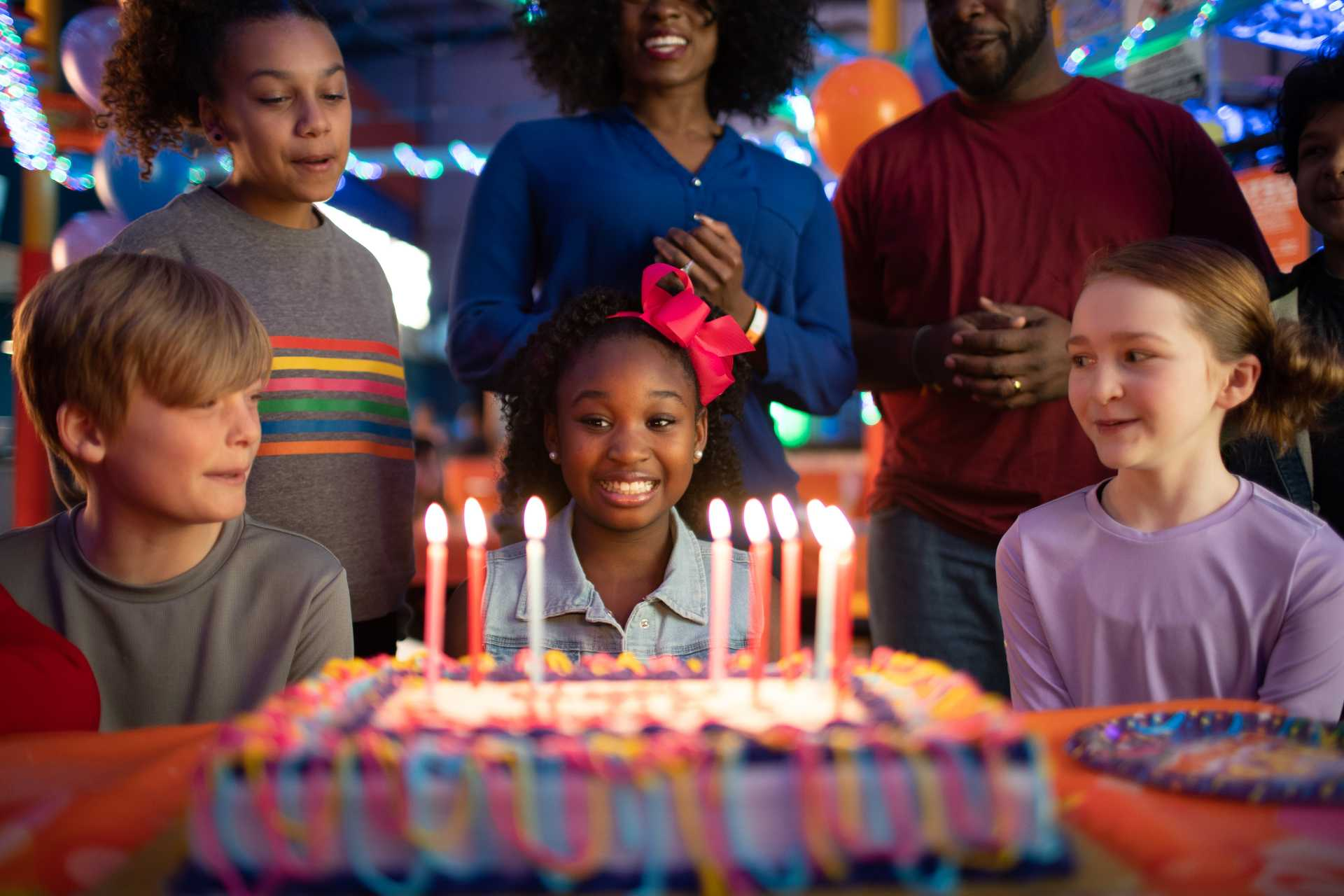 Laser tag, go-karts, and climbing walls are just the beginning of the activities that all your party guests can engage in, and they're entertaining enough to last all day. Adding games on top of these activities, like having kids go on a scavenger hunt on the climbing wall or other birthday party ideas like capturing the flag in laser tag, will only further enhance the adventure of your birthday party.
Keep in mind, while active parties are sure to be a hit with all the kids, it's crucial that you choose a party and theme that match the child's interests and personality to truly make them feel loved and appreciated. Then, working off of that, you can tailor the party around their personality even more.
Ready to book an awesome birthday for your 9-year-old? Call the Birthday Hotline at 800-960-4778 or visit our birthday party page.
No matter what your child is interested in, we're sure that using a few of these party ideas will help you plan a happy birthday celebration that will create memories for you and your child that will last a lifetime.