Is getting your kids to get moving a challenge? Do you struggle to drag them away from the screens for active play? At Urban Air Adventure Park, you won't have to beg your kids to exercise. They'll love all the attractions and fun ways to get their bodies moving at our adventure parks. Here are some of the ways that Urban Air makes exercising fun for kids.
1. We Know Jumping is Great Exercise (and FUN!)
Jumping itself is a fun, entertaining, and exhilarating exercise for children. Children inherently love bouncing, hopping, and flying around. Add in our trampolines and you've got the perfect exercise for your little ones. There are many benefits to spending time jumping and exploring our attractions. Here are just a few:
Healthy heart: Jumping gives cardiac muscles a boost and keeps them healthy and fit. It ensures sufficient oxygen supply around the body. Jumping and exercise in general can also help make your kids more alert and healthier.
Better Coordination: Jumping on a trampoline helps kids (and adults too) improve balance and coordination. When you're off balance and on an unstable surface like a trampoline, you're forced to use your core muscles to maintain your balance. The best part is that while your body's working, you're just having fun.
Weight loss: Obesity is a leading health issue in the USA. A sedentary lifestyle can lead to many health issues down the line. Adding active play and exercise into your child's routine will help them keep an active routine throughout their lives and help maintain a healthy weight.
2. From Adventure to Fitness – We Challenge the Mind & Body
While many activities that challenge the mind are sedentary – like video games, ready and studying, there are many ways to challenge the mind while being active. Many of Urban Air's adventures combine physical challenges with mental challenges to give you and your kids a great workout for the mind and body.
Climbing Walls force you to use your strength but also your mind to navigate your way to the top. You'll learn how to strategically plan your path while also challenging your strength. You can push your limits when you're safely harnessed in.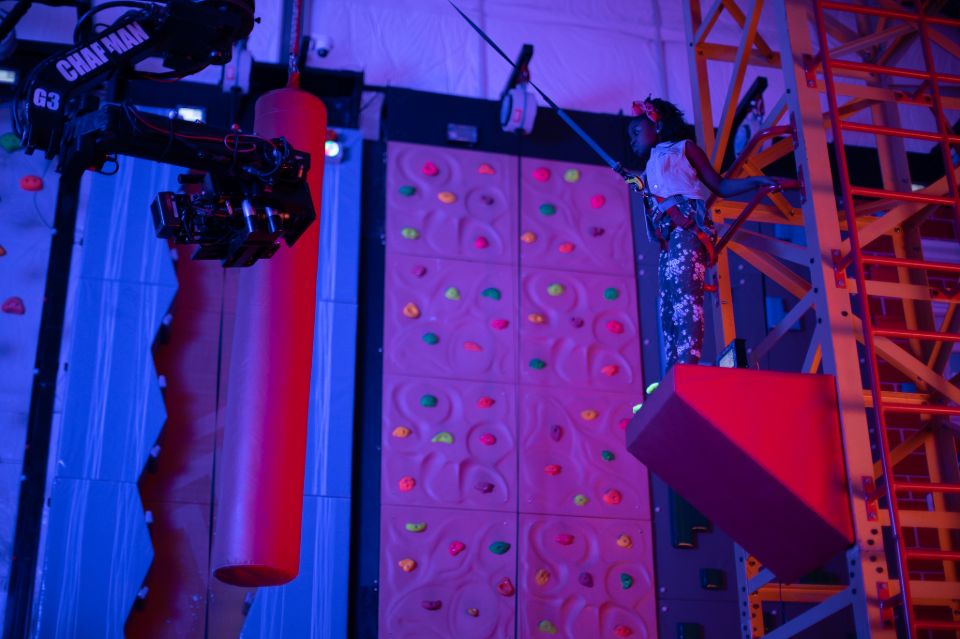 Competitive games like laser tag and dodgeball also keep your mind sharp and help kids learn to process information quickly and make quick decisions. Attractions vary by park, but every park has many fun ways to challenge the mind and body and keep kids entertained for hours.
As your kids learn to tackle new challenges in different situations, they'll also build their self-esteem. Their confidence will grow, and they'll be more willing to try new things and tackle new challenges with a positive attitude.
3. We Combine Fun and Exercise
Urban air has a long list of activities for kids that disguise exercise with fun — our ropes course, battle beam, warrior course, slam dunk zone, the runway (tumble track), and climbing walls give them both adventure and fitness. In fact, we prefer to use the term active play. No kid gets up in the morning wanting to exercise, but we're quite sure they will wake up in the morning wanting to spend another active day at Urban Air.
Creating a regular active play routine for your kids can be a challenge, especially if your child loves technology, video games, or even reading. While all those things have a place in your child's routine, they also need time away from screens and comfy seats to get moving. Our Urban Air memberships make it affordable to give your child the gift of active play all year round. Just think, no more begging your kids to get up and get moving. They'll love taking a visit to their local Urban Air to burn off some energy and get some exercise.
4. We Make Sure Indoor Fitness is Fun Anytime
One of the best things about getting your kids moving at Urban Air – you can do it any time, any day (when we're open, of course.) It doesn't matter if it's raining, snowing, or anything in between, your kids can get active in a safe, dry environment. Great for those short, cold winter days and those hot, humid summer days, Urban Air parks bring the fun and excitement of the great outdoors, inside. This is one activity that won't be spoiled by bad weather.
Playing indoors also has some added benefits:
You Don't Need Sunscreen – sending your kids out to play often means bugging them to put on sunscreen or slathering it on them yourself. Ditch the sunscreen when you head to Urban Air and don't worry about protecting your child from the sun. Fresh air is great for your kids too, and we're not suggesting they always play inside, so when you do send them out, don't forget that SPF.
Clothes Stay (Relatively) Clean – We're not saying your kids won't work up a sweat or maybe spill a special treat from our café, but when your kids play indoors, you can avoid pesky grass stains, mud, and dirt. Lighten your laundry duties (just a bit) by adding this indoor activity to your routine.
Parents Get to Relax – A visit to Urban Air is also a great getaway for parents. Unlike having your kids playing in the house, they'll be no stressful messes to clean up later. When you're kids play outside at home, you may feel compelled to hang back and do chores around the house, but when you take your kids to Urban air, you can get some much-deserved time to relax. Our café is the perfect spot to grab a drink and snack, catch up on your reading, or just enjoy watching your kids burn that endless energy.
5. We Let Kids Workout While They Play
Kids have lots of energy and if they don't have the opportunity to let it out, they can become frustrated and act out. Our Urban Air Adventure parks let kids work out, burn some energy, and have tons of fun while doing it.
Play is the original exercise for kids. They don't need gym glasses or workout videos. Just give them a safe space, a few friends, and some cool attractions and they'll play till they drop. They'll probably even beg to stay just a little bit longer, so we suggest telling your kids it's time to leave at least 30 minutes before you actually want to leave.
At Urban Air safety is our priority and we love to see kids engaging in active play and having fun with their friends and family. Some attractions have specific safety requirements or age and size restrictions. You can review the safety rules online or when you arrive at the park. Remember, our parks are all unique so be sure to check your park's page for a list of attractions available. If you're looking for a great way to get your kids active, find your nearest Urban Air Adventure Park!